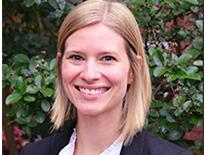 Jessica Smith is the Interim Director at the Department of Aging and Community Living (DACL). Prior to becoming Interim Director, Jessica served as DACL's Chief Operating Officer (COO) as well as the Senior Advisor to the Deputy Mayor for Health and Human Services. In her role as COO, Jessica oversaw the agency's programs team, which works directly with 20+ grantees to provide services to District residents 60 years of age and older, adults 18-59 with disabilities, and caregivers. She also oversaw the Information & Referral/Assistance line (the agency's "front door"), the Nutrition Services Team, Medicaid Enrollment Services, and the State Health Insurance Assistance Program. Jessica also had oversight of the agency's nearly $65 million dollar budget.
Prior to joining DACL, Jessica worked as the Deputy Chief of Staff for the Deputy Mayor for Health and Human Services where she oversaw a variety of human service related projects and initiatives including the construction of the Short-term Family Housing shelters, development of the Families First Initiative, implementation of Age-Friendly DC, redevelopment of the District's encampment protocol response, and development of the District's disaster displacement protocol. She also served as the Deputy Chief for the Human Service Branch of the District's COVID-19 response where she stood up an online application and call center to assist homebound residents by delivering food and essential items directly to their home during quarantine. She also designed and implemented a Virtual Family Assistance Center which connected kin of those who lost family members to COVID with mental health professionals and resource support.
Jessica also served as an Advisory Neighborhood Commissioner on ANC 1B in Columbia Heights. Jessica has a master's degree in social work from the University of Michigan where she studied social policy and community development.