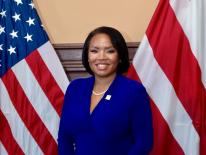 Director Charon P.W. Hines is a dedicated community servant and third-generation Washingtonian. With over two decades of administrative, constituent service, community engagement, and education experience, she has a deep understanding of the needs of District residents, including older adults.
Prior to her role at DACL, Director Hines served as the Senior Advisor to District of Columbia Public Schools (DCPS) Chancellor Dr. Lewis D. Ferebee, where she led innovative projects and supported strategic initiatives to eliminate barriers to student achievement. She was also the Director of the Mayor's Office of Community Affairs (MOCA), overseeing 10 constituent service offices that served as a vital connection between residents and the Executive Office of Mayor Muriel Bowser. Before joining DC Government, Director Hines served in several key educational leadership roles in Montgomery County Public Schools and the Archdiocese of Washington.
In addition to her work in education and constituent services, Director Hines has been an active member of the Lamond Riggs Citizens Association, where she served as its three-time consecutive President. She is also a member of the DC Caregivers Institute, which has given her a unique perspective on the importance of social services, including senior services.
As the daughter of a disabled Gulf War veteran and the maternal granddaughter of a Ward 8 resident, Director Hines understands the critical role that DACL plays in providing vital services to the city's oldest residents, adults with disabilities, and those who care for them. She is committed to ensuring that all seniors receive the highest level of care and service they need and deserve.
Director Hines earned her Bachelor of Arts in Sociology from Mary Baldwin College, a Master of Arts in Elementary Education from Bowie State University, and a Master of Science in Education Administration from Trinity University. She takes pride in her role as a wife and mother, caring for her infant son with her husband in Ward 4's Riggs Park neighborhood.